Judicial Watch, an organization that promotes government transparency and accountability, obtained reports from Moderna's COVID-19 vaccine animal trials.
"During the study, female rats were given human doses or 100 micrograms of the mRNA vaccine—two before and two during pregnancy," NTD reported.
"The test results show that about 4 percent of their offspring had statistically significant skeletal malformations, specifically abnormally wavy ribs."
WATCH:
In a lab rat test by Moderna — some of the vaccinated lab rats gave birth to offspring with deformed ribs. @news_ntd spoke with Dr. James Thorp (gettr: jamesathorpmd), a Maternal Fetal Medicine Physician to find out more. pic.twitter.com/zPubdLdbpl

— Jason Perry (@JasonPerryNTD) August 17, 2022
De Pfizer documents komen elke maand uit. Elke maand een shock!

'Josh Sigurdson reports on new Moderna documents that show rats who were used in the trial and were jabbed with the Moderna mRNA shot gave birth to babies with skeletal malformations.'https://t.co/p2mJvyBLnA

— Anna (@AnnaDeLorean) August 21, 2022
Lab Rat Offspring Got Rib Malformations After COVID Vaccination: Moderna Trial Documentshttps://t.co/KuGRlThHDK

— Jan Storms (@janstorms) August 22, 2022
Here's a Rumble backup from Chief Nerd of the clip with Dr. James Thorp:
"These were formal reproductive toxicology reports from the pharmaceutical companies, or medical industrial complex, and the extremely important finding here is that they attempted, I would presume, in that they hid these findings from the American people," said Dr. Thorp.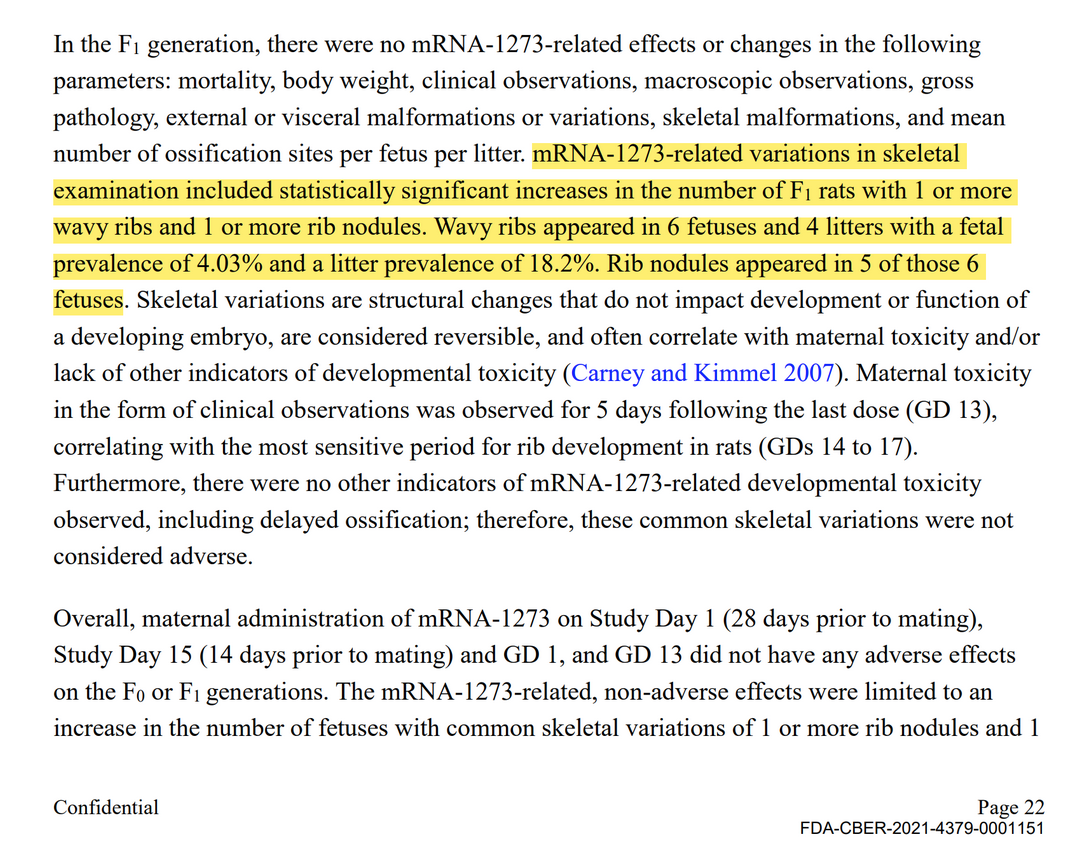 *Source*
From Global Research:
"Wavy ribs" refers to ribs not properly shaped.

In other words, 6 out of about 149 baby rats had wavy ribs and 5 of those also had rib nodules.

According to Latypova's analysis, only female rats were studied (male rats were not treated with the Moderna vaccine).

The females got a human dose of 100mcg Spikevax mRNA, 28 and 14 days prior to mating and gestation days 1 and 13.

"1/2 rats euthanized before delivery to examine fetuses, the rest followed to 21 days after delivery," Latypova stated, "No numbers are provided for the study size."

In addition, there is no study report, but only Moderna's own interpretation of the outcomes.

The results were part of reproductive toxicology tests done by Moderna, which is the only reproductive toxicology test for the product, according to Latypova.

It is not known how the dose translates from humans to rats.

"Neither Moderna nor Pfizer provided any dose calculations or justification information for dose selection in animal studies," Latypova told The Epoch Times.

"Doses of drugs, or especially biologics do not necessarily have linear relationships with toxicity or efficacy. It is likely a much more complex relationship and unfortunately not known at all."

"Reproductive toxicology is the study of adverse effects of medicinal products on reproduction. The FDA requires reproductive toxicity testing for any NME to be used in women of childbearing potential," added Latypova, who has worked in more than 60 pharmaceutical companies, mainly focusing on creating and reviewing clinical trials, many of which were submitted to the FDA.

Despite the abovementioned lab results, the FDA issued a statement on Jan. 30 saying that there were no adverse effects on postnatal developments.

"No vaccine-related fetal malformations or variations and no adverse effect on postnatal development were observed in the study," the FDA stated on the label for Moderna's Spikevax vaccine.

"In a developmental toxicity study, 0.2 mL of a vaccine formulation containing nucleoside-modified mRNA (100 mcg) and other ingredients that are included in a 0.5-mL single human dose of SPIKEVAX was administered IM to female rats on four occasions: 28 and 14 days prior to mating, and on gestation days 1 and 13," reads the FDA publication.