There's a trending Twitter thread concerning the latest Pfizer data dump that I want to share with readers before the account gets suspended.
It's about Pfizer's clinical trial enrollment at one site that appears to be quite fast.
Here's a brief summary from Steve Kirsch:
Is it fraud or just really good execution by the site? In speaking with experts, it is quite possible that there is nothing to see here.

It's a vaccine trial and it was done in the middle of a pandemic. So nearly everyone is a candidate. That fact makes fast recruitment possible.

This article from Sept 10, 2020 shows they have an impressive infrastructure in place.

There is no way to know for sure without more information. Unfortunately, it's unlikely we'll get it.

If it is fraud, it means Pfizer is liable for all the deaths and disabilities caused by their drug.

Site 4444

Before looking at the Jikkyleaks tweets, it's important to note that subjects with IDs starting with 4444 were enrolled at the 1231 site in Argentina. Those patients were recruited later just in time to have the safety data needed for FDA meeting. It is "impressive" they were able to turn on recruitment/enrollment machinery so quickly and right in the nick of time to meet the deadline.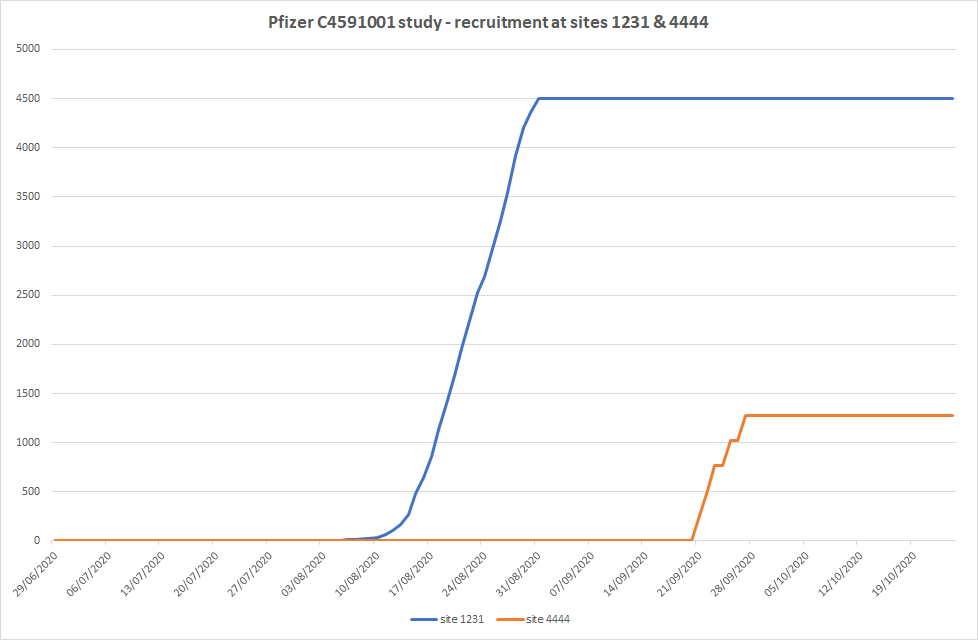 Here's the Twitter thread from Jikkyleaks:
The biggest recruiter by far is site 1231.
In Argentina. Well of course, for a joint German-American drug where else?

Site 1231 recruited 4501 patients.
That is 10% of the patients AT ONE SITE.
ALL 4501 patients were recruited in 3 weeks.
WOW! pic.twitter.com/6PXYbDApMB

— Jikkyleaks (Fan account) 🐭 (@Jikkyleaks) May 9, 2022
The site is supposed to be the Military Central Hospital.

That's interesting.
It's also an interesting logo.
Seems to have given David Martin ideas for his website logo, but probably just coincidence. I dunno… pic.twitter.com/vbp9G7FktR

— Jikkyleaks (Fan account) 🐭 (@Jikkyleaks) May 9, 2022
Weekend recruitment for a clinical trial would be odd. Staff are needed to fill out that many record forms (CRFs) and there are potential risks to the trial, so you need medical staff. It would be highly unusual.

So who is he?
Here is his trial CV pic.twitter.com/4wL9y8DOBZ

— Jikkyleaks (Fan account) 🐭 (@Jikkyleaks) May 9, 2022
Who also happens to work for The Infant Foundation https://t.co/F9nEalRepP and also happens to be funded by the Bill & Melinda Gates Foundation and the NIH

He is literally the busiest doctor on the planet pic.twitter.com/jmeRiAJDdS

— Jikkyleaks (Fan account) 🐭 (@Jikkyleaks) May 9, 2022
Yet while doing all this, he managed to find time to (presumably single-handedly because no other authors are listed at that site) recruit 4500 patients in 3 weeks, with each patient requiring 250 PAGES of case report forms (CRFs).

That is 1,125,000 pages of CRFs.
In 3 weeks. pic.twitter.com/6DixYj3VkA

— Jikkyleaks (Fan account) 🐭 (@Jikkyleaks) May 9, 2022
There were 270 clinical recruitment sites for the Pflzer vaccine study, numbered consecutively from 1001 to 1270.

There are all listed here. https://t.co/ifHwjcY8qK

This is the last page.
There is no site 1271.
There is no other site with a number above 1270. pic.twitter.com/A028nOGmnt

— Jikkyleaks (Fan account) 🐭 (@Jikkyleaks) May 9, 2022
And what is magical about the week of the 22nd Sept 2020?

Well that just happens to be the last week that "recruitment" can take place for the data cut-off for the FDA meeting in December.

There is just one problem though (well, two really)…

— Jikkyleaks (Fan account) 🐭 (@Jikkyleaks) May 9, 2022
My guess: they needed enough numbers of "positive PCR tests" in the placebo group to show a difference between groups for that VRBPAC meeting on the 10th Dec, and they didn't have them.

So site 4444 appeared and gave them their "perfect" result.

Bravo. pic.twitter.com/N7dWjOzoWu

— Jikkyleaks (Fan account) 🐭 (@Jikkyleaks) May 9, 2022
Very related: https://t.co/dt2yZVTvMN

— Jikkyleaks (Fan account) 🐭 (@Jikkyleaks) May 9, 2022
Steve Kirsch offered this initial reaction on Rumble:
Kirsch noted in his Substack Newsletter:
I found out after I made the video that Site 4444 is the same site as Site 1231 and that Polack is associated with a foundation that coordinates 26 hospitals in Argentina involving 467 doctors who were instantly recruited. This changes the odds in my mind. I checked with experts and they thought it could be done.

Is this fraud? Or just amazing execution?

Dr. Polack is the Scientific Director of the INFANT Foundation in Buenos Aires which coordinates a network of 26 hospitals in Argentina.

So if all 26 hospitals participated fully then that's 57 patients per week per hospital which is possible if the sites have done this before and have a coordination framework for getting all 26 sites up and running at the same time. This means that everyone who was doing something else dropped what they were doing to switch over to the trial all at the same time.

Bottom line: It's quite possible they pulled it off. See this article from Sept 10, 2020 which shows they have an impressive infrastructure in place.
cipp-meeting.org provides info on Dr. Fernando Polack:
Dr. Fernando Polack  is a Specialist in Pediatric Infectious Diseases, graduated with Honors from the University of Buenos Aires in 1990. Dr. Polack completed residency training at the French Hospital in Buenos Aires and at William Beaumont Hospital in Michigan followed by a  post-doctoral fellowship at Johns Hopkins University. Dr. Polack is the Cesar Milstein Professor in the Department of Pediatrics at Vanderbilt University and the Scientific Director of the INFANT Foundation in Buenos Aires which coordinates a network of 26 hospitals in Argentina. Dr. Polack has led numerous scientific manuscripts in reputed journals, including N Eng J Med, Nature Med, J Exp Med and PNAS, among others. His work is funded by the Bill & Melinda Gates Foundation, the National Institutes of Health, the Thrasher Research Fund, the Optimus Foundation and other international organizations.
Dr. David Healy noted about Pfizer's Phase III clinical trial site in Argentina, where Dr. Polack served as Pfizer's Principal Investigator.
Meanwhile, on 10 July 2020, without any prior announcement, Fernando Polack and Nicolás Vaquer, CEO of Pfizer in Argentina, called on President Fernandez to tell him that Argentina had been selected by Pfizer to conduct Phase III clinical trials of their Covid Vaccine. Polack had taken part in Zoom calls with Pfizer since May that year.

Infobae reported Fernando proudly saying

"…if you have the scientific privilege of participating in the evaluation of a vaccine, you contribute to potentially better position your country in the waiting line for distribution."

This placebo-controlled trial was arranged with military precision. Fleets of taxis were booked to ferry volunteers between their homes and the vaccine clinic at Hospital Militar Central in the northeast of the city. Volunteers were each given a tablet with a pre-installed app to record pre-defined symptoms.

About 5,800 volunteers were enrolled, half getting the active vaccine. This is almost 4 times more than the next largest centre in this trial. Amazingly 467 doctors were almost instantly signed up and trained as assistant investigators in the study. Fernando was in command as Pfizer's Principal Investigator.

The first article about the Pfizer-sponsored multinational ground-breaking study was published in the New England Journal of Medicine on 31 December 2020, with Fernando as first author.  Is this the first paper in NEJM with the owner of an SMO as first author?

The second author was Dr Stephen Thomas of the State University of New York, Upstate Medical University, Syracuse. In a BMJ podcast, Dr Thomas bills himself as the Lead Principal Investigator. His academic centre enrolled 364 volunteers.

Despite leading this project, Dr Thomas makes it very clear that he was only allowed access to analyses of aggregated data and didn't know when or if Pfizer would release the raw data. It is not clear how much or how Pfizer paid for SUNY participation in the trial.

Our question is: Who ran the Buenos Aires vaccine trial, and where did the money go?

Was it Dr Gonzalo Pérez Marc from the Hospital Militar Central (where Augusto Roux was vaccinated)?

Several press reports claim that he coordinated the trial. He was a co-author on the NEJMgate article but is listed by Pfizer only as a Sub Investigator in the Covid trial. He was previously employed as Principal Investigator in Pfizer studies of RSV in pregnant women. Until last year Gonzalo was also Chief Operating Officer of iTRIALS.

Was it Fernando?

He is the first author of the first NEJM article and Pfizer documents show him to be the Principal Investigator in Argentina. But he says his role in the trial was merely as an associate investigator at Departamento Materno Infantil in the Hospital Militar.

All NEJMgate authors have to submit a "Disclosure Statement" to show any potential conflicts of interests.

Polack reported grants from Novavax and personal fees from Janssen, Bavarian Nordic A/S, Pfizer, Sanofi, Regeneron, Merck, Medimmune, Vir Bio, Ark Bio, Daiichi Sankyo outside the submitted work.

At least eight of these companies are engaged in RSV vaccine research in babies and pregnant women. Fernando has mentioned a combined RSV, flu and Covid vaccine.

He also disclosed a grant from "Pfizer as investigator and site management organization co-owner" (iTRIALS).

Here is the problem. As President and shareholder in iTRIALS why did he (and Marc) claim "that they have no financial interests in this product"?
Cont. from Kirsch:
Summary

Was there fraud in the Pfizer trial? Without a doubt. The story of Maddie de Garay is a clear case of that. Brook Jackson has evidence of fraud; she has 17 lawyers working for her. If there wasn't fraud, these lawyers wouldn't be wasting their time.

This new data on Site 1231/4444 looks suspicious to me. It looks too good to be true. But we can't make the call without more information. Undoubtedly, the mainstream media will not look into this, Pfizer will remain silent, and Polack will be unreachable for comment.

The lack of transparency should be troubling to everyone. That is the one thing we can say for sure.