While mainstream media ramps up another wave of COVID fearmongering, demand for mRNA gene therapies continues to nosedive (despite warnings of a new hybrid mutant strain).
Moderna shares started tanking on Tuesday after two strategic global supranational bodies representing low- and middle-income countries rejected the purchase hundreds of millions of additional doses of the company's experimental shot.
According to Zero Hedge:
The African Union and Covax, the Bill Gates and WHO-backed group dedicated to spreading (low cost) vaccines across the world, made the decision to pass on buying more jabs (while the US rolls out a second booster for older patients) as developing nations struggle to find enough customers eager to be inoculated.

Of course, it's not just demand that's keeping vaccination numbers low: According to Bloomberg, developing nations have struggled to turn supplies into inoculations. Lower-income countries left behind in the global rollout are now grappling with a lack of funds, hesitancy, supply-chain obstacles and other factors that are hampering distribution.
African Union, Covax Refuse To Buy More Vaccines From Moderna As Demand Plummets https://t.co/Ydp2Ah4wbS

— zerohedge (@zerohedge) April 6, 2022
Good for the African Union https://t.co/Hy5wLYgdqt

— Daniel Horowitz (@RMConservative) April 6, 2022
COVAX, the global project to share COVID-19 vaccines, and the African Union have declined options to buy additional doses of Moderna's shot, as developing nations struggle to allocate supplies. https://t.co/LRYfd9yPiS

— Reuters Health (@Reuters_Health) April 5, 2022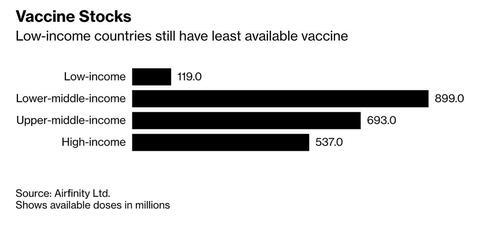 Reuters added:
The global alliance did not exercise the option for 166 million doses of the shot for the third quarter of 2022, as well for 166 million doses in the fourth quarter, which expired on April 1, a Moderna spokesperson said.

COVAX, which is backed by Gavi, the World Health Organization and the Coalition for Epidemic Preparedness Innovations, is struggling to place more than 300 million doses, Reuters reported in February.

Moderna and Gavi have agreements for up to 650 million doses of the company's vaccine to be made available to COVAX participants through 2021 and 2022.

A Gavi spokesperson, who earlier confirmed the development, said the discussions with Moderna are part of "regular decision-making process on exercising options outlined in our advance purchase agreements with manufacturers."
Africa has the world's lowest COVID-19 inoculation rate, with only 15% of the continent's population listed as 'fully vaccinated.'
Only about 400 million of the 700 million+ doses Africa has received have been administered, leaving them to expire and tossed in the trash.
WATCH: Nigeria Destroys 1 Million Expired Donated COVID-19 Injections
Kenya Says 840,000 Donated COVID-19 Jabs Expired; Cites Vaccine Hesitancy
Good for Africa!